Chorizo Gouda - 200g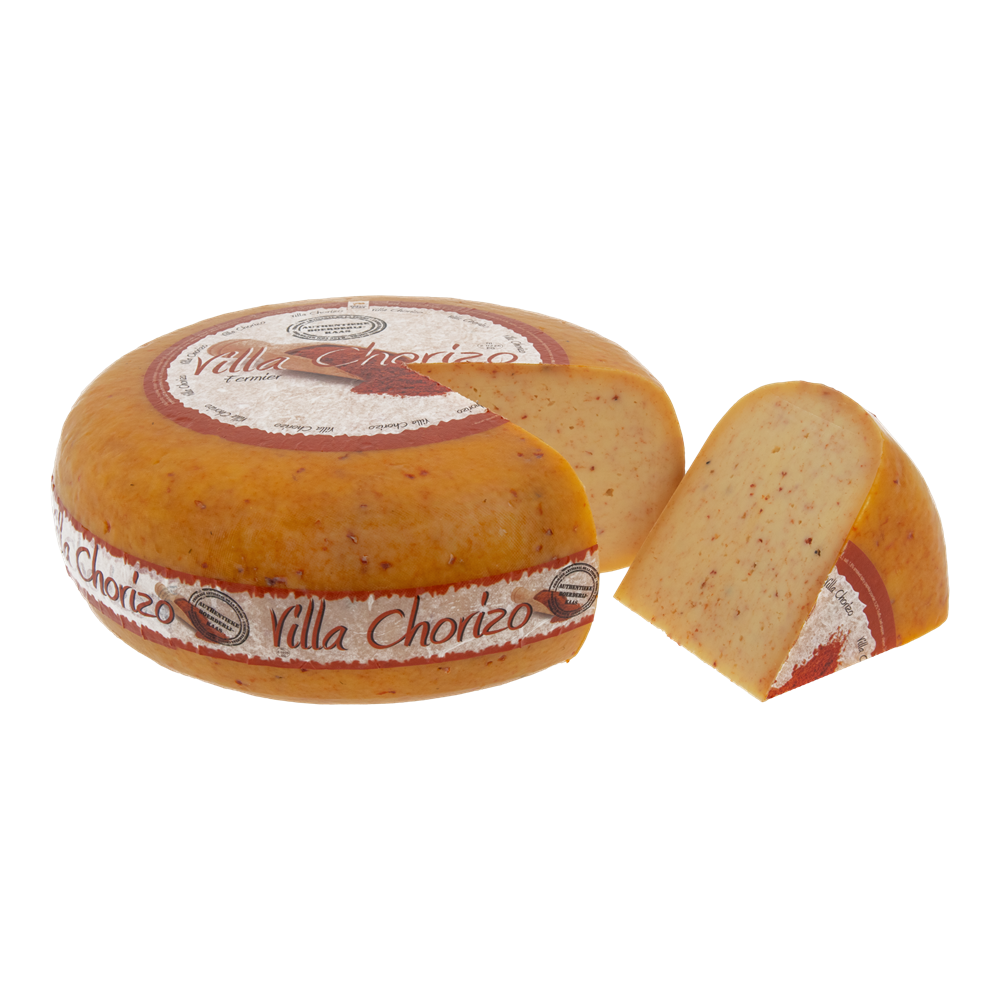 Chorizo Gouda is a flavorful and savory cheese that combines the creamy characteristics of Gouda cheese with the spicy and robust taste of chorizo sausage. This unique cheese offers a harmonious blend of cheese and cured meat flavors. Here's an explanation of Chorizo Gouda:
Milk Type: Chorizo Gouda, like traditional Gouda, is typically made from cow's milk.
Country: Gouda cheese originates from the Netherlands, and the addition of chorizo brings in elements of Spanish and Mexican cuisine.
Production: To create Chorizo Gouda, cheese producers introduce small pieces of chorizo sausage into the cheese during its production process. The chorizo pieces are often mixed evenly throughout the cheese, allowing the flavors to meld as the cheese ages. This fusion creates a cheese that incorporates the spicy, smoky, and slightly tangy notes of chorizo.
Texture and Flavor: Chorizo Gouda maintains the smooth, semi-hard texture of traditional Gouda but with the added dimension of the spicy and flavorful chorizo. The cheese offers a unique and bold taste that combines the creamy, nutty characteristics of Gouda with the spiciness and depth of flavor from the chorizo. It can range from mildly spicy to very spicy, depending on the amount of chorizo used.
Uses: Chorizo Gouda is a versatile cheese that can be enjoyed on cheese platters, in sandwiches, or in cooking. It adds an exciting twist to dishes like quesadillas, burgers, omelets, and macaroni and cheese, where the combination of creamy cheese and spicy chorizo can create a delicious culinary experience.
Pick Up Timeslot
Pick up of platters is available during our shop opening hours.
If you have selected the self-collection option for your order, any platters not collected by our closing time that day will be forfeited and no refund will be given.
You can pick up your platters at:
117 Tyrwhitt Road
Singapore 207546
Nearest MRT station: Farrer Park / Bendemeer / Jalan Besar
Standard Delivery Timeslot
Our current delivery time slots are 12 - 3pm and 3 - 6pm. Please allow 30 minutes grace period from each time slot. Platters may reach 30 minutes before the chosen time slot or after the chosen time slot.
Specific Timing Deliveries
For customers who require deliveries at specific timings or outside of our standard timeslots, we can arrange a direct courier service for you at an additional cost depending on your address and timing ("Specific Timing Delivery Service"). While we strive to meet your requested delivery times through our Specific Timing Delivery Service, we cannot guarantee exact timings due to unforeseeable circumstances such as traffic conditions, weather disruptions, or other unforeseen events that may cause delays. The Specific Timing Delivery Service is facilitated through third-party courier services. As such, the exact delivery time is not within our direct control and can be subject to the courier's operational constraints. In the event that the Specific Timing Delivery Service does not meet the requested timing, no refunds or discounts will be provided for the top-up fee charged for this service.
Alternatively, you can also arrange your own car courier to deliver our products to you.
Either way, we will not be liable for the damage to our products during the delivery.
Last Minute / Same Day Deliveries
For last-minute orders (less than 24 hours), if we are able to slot your order in for delivery, the delivery timeslot might be subject to changes based on our delivery schedule.
Incorrect Delivery Address / Uncontactable Recipient
If an incorrect address is given, the sender/recipient will be subject to a re-delivery fee of minimum $15 (max $35) depending on the new delivery address.
Do ensure the recipients of our products are available to receive them at the given delivery address during the selected delivery timeslot. In the case where nobody is present to receive our products, we can either leave them at the delivery location unattended or re-deliver to the same address within the next hour or to another location on the same day for a fee ($15 - $35).
If an incorrect address is given, and the sender or recipient is uncontactable during the delivery, the delivery items will be forfeited and no refund will be given.
Cheeselads will not be liable for any of our products that are damaged, lost or stolen on any premises not within our care.
Cheeselads will not be accountable for the freshness, safety and quality of our food if instructed by the customer to leave our products unattended at the delivery location.
Delivery Liability
Cheeselads shall not be liable for any direct, indirect, incidental, special, consequential, or exemplary damages, including but not limited to damages for loss of profits, goodwill, use, data, or other intangible losses, resulting from the use of our delivery service.
Amendments
Cheeselads reserves the right to amend these terms and conditions without prior notice. Your continued use of our delivery service constitutes acceptance of these terms as amended.